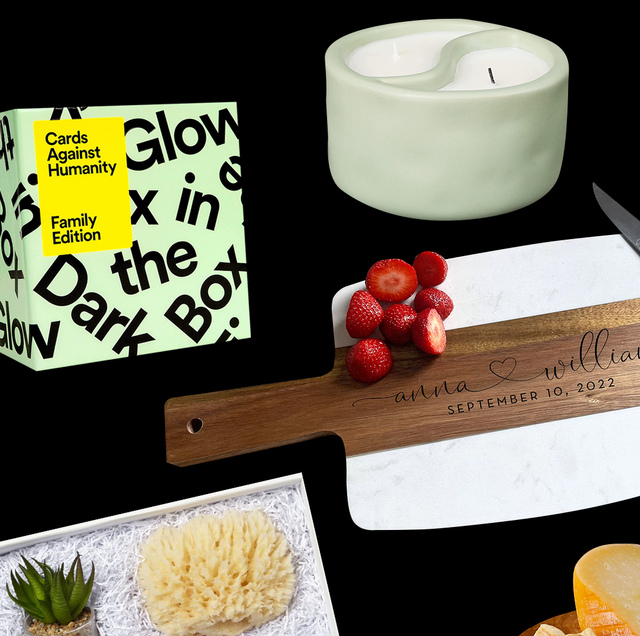 Courtesy
A holiday that's all about eating delicious food and thinking about everything we're thankful for seems pretty complete as is. But who's to say we can't step up our game a bit? And by that, I mean throwing some fun presents into the mix. It might sound like a strange idea at first, but listen up. One of the reasons Thanksgiving is such a fun day is because there isn't the expectation of gifts. What I'm suggesting isn't necessarily a big exchange of presents on Thanksgiving morning. Instead, it's the opportunity to bring someone a lil treat because they're hosting a Friendsgiving or show a loved one you're thankful they baked your favorite pie. So, I present to you a list of gift ideas for Thanksgiving—because, after all, Thanksgiving is about gratefulness, and you can definitely choose to express that with prezzies.
Because gift ideas for Thanksgiving aren't an ~official~ thing (yet!), you can get a little creative with it this season. If your giftee is super into home decor, opt for a chic glass pumpkin your host will for sure reuse next year or an aesthetically pleasing board game their whole fam can enjoy. And, of course, you can never go wrong with anything food and drink-related—like a gorgeous wine stopper or some vegan cookies, which will help your host with the festivities (you're the best guest ever, obv). The possibilities with Thanksgiving gifts are endless, so peruse this list of 37 picks for a little Turkey Day inspiration.
Advertisement – Continue Reading Below
1
This fall-inspired candle
Homesick
Autumn Hayride Candle
2
This relaxation box
KNACK
Just Breathe Spa Gift Set
3
This mini projector
ClokoWe
Mini HD Movie Projector for iPhone with Screen
4
This wifi-enabled diffuser
Pura
x Thymes Smart Home Plug-in Diffuser Kit in Frasier Fir
5
This family-fun card game
Cards Against Humanity
Family Edition: Glow in The Dark Box
6
This custom serving board
CircleCityDesignCo
Personalized Cutting Board
7
This gorgeous air fryer
Beautiful by Drew Barrymore
6 Quart Touchscreen Air Fryer in Oyster Grey
8
This classic outdoor game
GoSports
Tailgate Size Solid Wood Premium Cornhole Set
9
This make-your-own charcuterie board
Harry & David
Autumn Meat and Cheese Gift
10
This quality Tupperware set
Crate & Barrel
20-Piece Round Glass Storage Set
11
This handheld blender
GE
Immersion Blender
12
This lil cocktail kit
Haus
The Spritz Kit
13
These Gorge Wine Glasses
Estelle Colored Glass
Single Stemless Glass
14
These Glass Pumpkins
West Elm
Glass Pumpkin Object
15
These Marble Coasters
Godinger
Silver Art Round Coasters Gold Edge, Set of 4
16
This Dried Bouquet
Urban Stems
The Delancey
17
This Serving Board
Crate and Barrel
Teak Root Wedge Reclaimed Wood Serving Board
18
This Game Day Sweatshirt
Packed Party
Multi Color Gameday Best Cozy Sweatshirt
19
This Hot Sauce Trio
HOT ONES
Hot Ones Season 14 Warm-Up Pack
20
This Cute Pie Plate
Great Jones Goods
Sweetie Pie
21
These Cool Wine Stopper
Williams Sonoma
Marble Wine Stoppers, Set of 3
22
This Cast Iron Pumpkin
Williams Sonoma
Staub Enameled Cast Iron Pumpkin Cocotte
23
This Epic Scrabble Game
CB2
Scrabble ® Deluxe Edition
24
This Face Mask
Splendid Dirt
Nutrient Mud Mask with Organic Pumpkin Puree
25
This Coffee Table Book
Amazon
Jungalow: Decorate Wild: The Life and Style Guide
26
This Luxe Stacking Game
West Elm
Stacking Marble Stone Game
27
These Vegan Cookies
Partake Foods
Soft-Baked Vegan Cookies Variety Pack
28
This Log Bag
Mi Cocina
The Log Bag in Denim
29
These Paper Placemats
Hester and Cook
Give Thanks Placemats
30
This Adorable Candle
Paddywax
Yin & Yang Ceramic Candle – Green Tea Aloe
31
These Reusable Totes
baggu
Happy Mix Bags, Set of 3
32
This Weighted Blanket
Baloo Living
Weighted Blanket
33
These Wine Bottle Bags
The Cotton & Canvas Co.
A Toast for the Host Wine Carrier
34
These Salad Servers
xNStudio
Salad Servers: Olivewood and Black Bone
35
This Napkin Set
Bed Threads
100% Linen Scalloped Napkins
36
This Wine Rack
West Elm
Honeycomb Metal Wine Rack
37
This Handy Roku
Roku
Streaming Stick 4K
Advertisement – Continue Reading Below