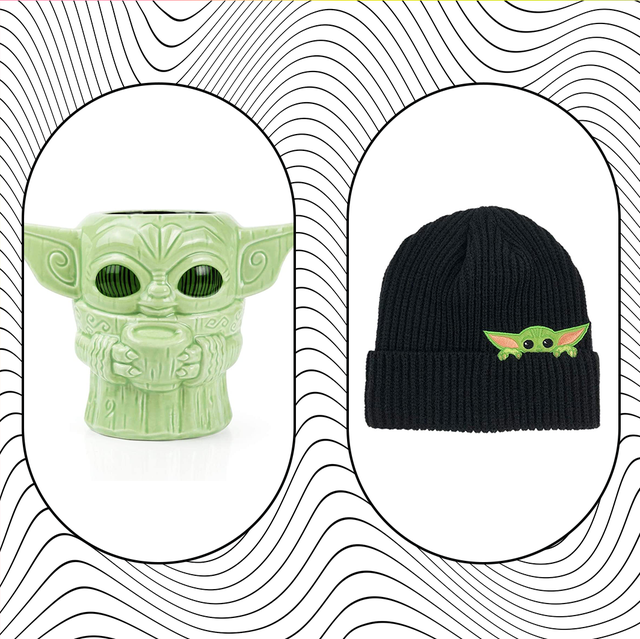 Courtesy/John Francis
May the adorbs be with you! Ever since the launch of Disney+, a cultural phenomenon has taken over our hearts and memes, and that is Baby Yoda, aka The Child and aka Grogu. Why does such a little guy have so many names? Because he's worth it! This little munchkin is by far the most important character on Disney+'s Star Wars spin-off, The Mandalorian (don't @ me), and he has become the most important creature on Twitter ever since he sauntered up to Mando with his Force powers and adorably goofy antics. He has brought us all together with his adorable wrinkled face, oversize ears, love of naps, and penchant for eating everything he can get his grubby little green hands on, so it's only natural you'd want to represent him in the real world. Your wish is our command: We found all the best Baby Yoda merch on the internet so you can obsess over him some more. Literally everyone loves him, so you can find gifts for every type of person at every age. We can even help if you've been exiled on another planet and are totally HUH about this little guy. Happy shopping!
Advertisement – Continue Reading Below
1
for your coffee-shop hang
STAR WARS
Baby Yoda Peek Beanie
2
for when you're incognito
Toddler Boys' Baby Yoda Mando Knapsack Fleece Hoodie – Gray
3
for your yoga retreat
lokai
The Child Lokai
4
for cocktail hour
Star Wars "The Child" Ice Molds, Set of 2
5
for your home decor
Star Wars
Star Wars The Bounty Collection Series 3 The Child Figure
6
for game night
Hasbro
Operation Game: Star Wars The Mandalorian Edition Board Game for Kids
7
for when you need to hide the stuffed animals
Star Wars
Hideaway Hover-Pram Plush
8
for when you need someone to talk to
Star Wars
Talking Plush Toy
9
for storytime
Star Wars: The Mandalorian: A Clan of Two
10
for date night
GabriellasJewelry
Baby Yoda Inspired Earrings
11
for a huggable companion
Mattel
Mattel "The Child" Plush Toy
12
for a lazy weekend
TheExhaustedOnes
Limited Edition Vintage Retro Sunset Baby Yoda Sweatshirt
13
for finishing your collection
Funko
Funko Pop! "The Child" Vinyl Bobblehead
14
for an everyday staple
Embroidered Baby Yoda T-shirt
15
for dance parties in the shower
Bitty Boomers
Bitty Boomers Baby Yoda Bluetooth Speaker
16
for watching new episodes of 'the mandalorian'
Integrity Bottles
Integrity Bottles Baby Yoda Stemless Wine Glass
17
for sprucing up your space
fandomfocused
The Child Candle
18
for keeping track of your jams
AirPods Case
19
for staying organized
MYPRINTON
Baby Yoda Waterproof Dishwasher Magnet
20
for a cozy night in
SockCiti
Baby Yoda Socks
21
for warning personal-bubble trespassers
Bioworld
Cloth Face Masks
22
for your best friend's baby shower
Star Wars
Baby Yoda Footies, Blanket, Bib, and Hat
23
for a quick trip to the store
Kbeautysoapandgift
Baby Yoda Face Mask
24
for chilly weather
leMinimal
Baby Yoda Grogu Mandalorian Star Wars Sweatshirt Disney Yoda | Etsy
25
for board-game lovers
Monopoly
The Mandalorian Edition Monopoly Game
26
for your Starbucks order
Homemadecraftwife
Baby Yoda Starbucks Cup
27
for bad hair days
Bioworld
The Child Adjustable Adult Hat
28
for the closest thing to a real Baby Yoda
"The Child" Animatronic Edition Figure
29
for your phone
Star Wars
The Mandalorian PopSockets Grip and Stand
30
for a festive party
STAR WARS
The Child Ugly Christmas Sweater
31
for when you wanna decorate
Brilliant Designs ink
Baby Yoda Phone Decal
32
for a unique accessory
The Spider's Parlor
1-Inch Silver Plated Pendant Necklace or Keychain
33
for stamping literally every surface
StampDealer
Hand-Carved Rubber Stamp Set
34
for when you need coffee
Geeki Tikis
Geeki Tikis Star Wars Ceramic Cup
35
for your car
Saturdays Co.
Peeking Baby Yoda Cling
36
for your actual baby
Baby Beanie Hat
37
for when you're feeling poetic
"He Protects He Attacks He Also Takes Naps" Racerback Tank
38
for extra snuggles
itty bitty® Yoda™ Plush
39
for the hot dads and hot dad lovers
POP
The Mandalorian (Din Djarrin) Holding The Child (Grogu) Vinyl Bobblehead
40
for the plant moms
Shop all Chia Pet
Chia Pet Star Wars "The Child"
41
for the brunch heads
Mandalorian Single Waffle Maker
42
for the night owls
The Child Shadow Palette
43
for the sippers
tervis tumbler
'Mandalorian' Tumbler
44
for the wanna-be plant mom
Faux Succulent Planter
45
for the big softies
Cuutopia Grogu Plush Toy
46
for fashionable youths
Baby Yoda Sunglasses & Hat Set
47
for the accessorizers
'The Mandalorian' Chibi Holidays Mini Backpack
48
for the disney adults
Baby Yoda T-Shirt
49
for the pet lovers
Grogu Cat Toy with Catnip
50
for the serious collector
SWAROVSKI
Swarovski Star Wars The Child Figurine
Advertisement – Continue Reading Below