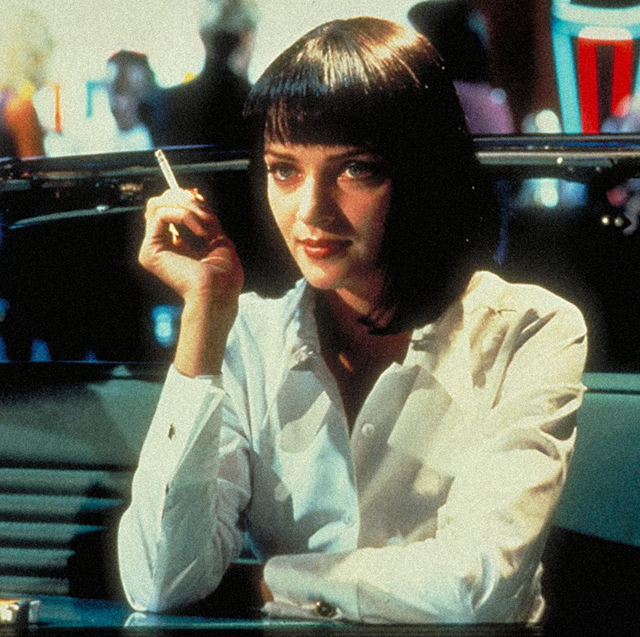 IMDb
There's no shortage of fashion inspiration on the silver screen. Acclaimed movies have amazing performances and plot lines, sure, but it's really the costumes that help transport the audience to a specific moment in time…and that help inspire some really amazing Halloween costumes. Legit so many movie characters—whether fictional or not—are fashion icons in their own right. And if you're all about wearing pop culture-inspired costumes for Halloween, then we've got a whoooole bunch of fabulous movie character costume ideas to get ya started.
With looks inspired by scary movies, funny movies, and throwback movies, we've included character costumes from all sorts of films, from cult classic costumes that everyone is sure to recognize to a few more…obscure looks for you indie folks (you know who you are). We're talkin' stylish icons like Alabama Whitman from True Romance, Dionne Davenport from Clueless, and Peik Lin Goh from Crazy Rich Asians, just to name a few. No matter your budget or willingness to commit this October, here are all the best movie character costumes you can rock at your Halloween party.
Advertisement – Continue Reading Below
1
Gracie Hart from Miss Congeniality
If you have a pink dress with a high slit and combat boots, then you just need a crown, sash, and leg holster to become Gracie from Miss Congeniality.
SHOP TIARA
2
Alabama Whitman from True Romance
To channel Alabama Whitman from True Romance, you just need a red dress, leopard-print jacket, and some shades.
SHOP JACKET
Say it with us now: "Brr! It's cold in here. There must be some Clovers in the atmosphere." Just sayin, the Clovers green cheer uniform is far superior to the Toros' boring red-and-black unis.
SHOP CHEER UNIFORM
4
Harley Quinn from Suicide Squad
Guarantee you've seen someone wearing this as a Halloween outfit since Suicide Squad premiered in 2016. Harley Quinn's fishnet tights, "Daddy's Lil' Monster" T-shirt, bomber jacket, pink and blue hair, and, yeah, a freaking baseball bat just look so badass.
SHOP SHIRT
5
Lydia Deetz from Beetlejuice
What could be more fun than dressing as the OG ~goth grrl~ for Halloween, complete with an eye-catching red wedding gown?
SHOP DRESS
6
Dorothy Gale from The Wizard of Oz
Dorothy and gingham go together like yellow bricks and roads. She looks so sweet and summery with her apron dress in The Wizard of Oz—and who could forget about those famous sparkly red shoes?
SHOP DRESS
7
Dionne Davenport from Clueless
Yeah, Cher's yellow plaid ensemble is undeniably chic, but can we talk about Dionne's first 'fit from the movie for a sec?
SHOP HAT
8
Elvira Hancock from Scarface
For a fun throwback, dress up as the v chic Elvira Hancock from 1983's Scarface, complete with a long satin dress, bobbed wig, and heeled sandals.
SHOP DRESS
Juno's mismatched 'fit made us wanna try wearing a skirt over jeans (plus, this is the perfect Halloween costume to wear if you're expecting a lil bb).
SHOP SHIRT
10
Nina Sayers from Black Swan
The swan costume Natalie Portman wears in her final performance is so on point(e)—the crown, the eye makeup, the tutu—that it's no wonder this look became the one featured on movie posters.
SHOP CORSET
11
Margot Tenenbaum from The Royal Tenenbaums
Margot's style in The Royal Tenenbaums is still iconic even 17 years after the movie was released. From the fur coat to the Hermès Birkin bag and the single barrette, she has such a signature look.
SHOP COAT
12
Sandy Olsson from Grease
Sandy's edgy makeover in the movie Grease is definitely jaw-dropping. She looks killer in tight black pants, an off-the-shoulder top and red peep-toes (it's impressive she wears them while walking on grass!).
SHOP LEGGINGS
13
Wonder Woman from Wonder Woman
A superhero's costume is such an integral part of their character, and Wonder Woman's outfit is just as functional as it is stylish. With its armored skirt and bustier in gold, red, and blue, she's protected, has the freedom to kick and punch, and also looks dang good doing it.
SHOP COSTUME
14
Vivian Ward from Pretty Woman
Who could forget the first scene when Vivian first appears in Pretty Woman? She wears a cut-out mini dress with thigh-high patent leather boots—talk about making an entrance. Although she gets a makeover later on, it's this first outfit that's the most memorable.
SHOP DRESS
15
Holly Golightly from Breakfast at Tiffany's
Holly Golightly's LBD and sparkly accessories in Breakfast at Tiffany's is one of Audrey Hepburn's most iconic looks. She's SO glamorous with her pearls, gloves, and cigarette holder.
SHOP NECKLACE
16
Mia Wallace from Pulp Fiction
The white button-down has been a classic piece forever, but Mia Wallace makes it a fashion-forward statement when she wears hers in Pulp Fiction.
SHOP BUTTON-DOWN
17
The Girl from The Seven Year Itch
One of Marilyn Monroe's unforgettable moments in The Seven Year Itch was her dress being blown up by a gust of air from a subway grate. This halter-neck style is practically synonymous with the famous starlet.
SHOP DRESS
18
Nakia from Black Panther
The 2018 film had the most gorgeous costumes, but it was the bright red ensembles that warriors like Nakia wore that really stole the show. The mix of rich colors, embroidery, and metal armor made these outfits unforgettable.
SHOP COSTUME
19
Cruella de Vil from Cruella
The two-tone hair? The red lip? The oversized fur coat? It doesn't get any more chic than everyone's favorite dog-hating villain Cruella de Vil.
SHOP WIG
20
Leeloo from The Fifth Element
Calling all sci-fi nerds: This truly iconic costume is sure to make ya stand out at your Halloween party.
SHOP COSTUME
21
Helen Strangé from Boomerang
Eccentric fashion diva Strangé is one of the most memorable parts of 1992's Boomerang, and her red-and-black ensemble is so, so fun to recreate.
SHOP UNITARD
22
Katniss Everdeen from The Hunger Games
An all-black ensemble, a bow, and a long braid are all you need to become the fierce Katniss Everdeen.
SHOP BOW
23
Lisbeth Salandar from The Girl with the Dragon Tattoo
If you've got some impressive hair styling and body art skills (or, ya know, a real mohawk and dragon tattoo), then you can copy Rooney Mara's badass style from The Girl with the Dragon Tattoo.
SHOP CLIP-ON HOOPS
24
Baby Jane Hudson from What Ever Happened to Baby Jane?
What Ever Happened to Baby Jane? is truly one of the creepiest films of all time, and horror buffs are sure to recognize your Bette Davis-inspired costume.
SHOP BROOCH
25
Alexa and Alexie Grady from The Shining
Dressing up with your bestie? Then you've gotta go with the blue dresses and black Mary Janes worn by the creepy twins in The Shining.
SHOP DRESS
26
Juliet Capulet from Romeo + Juliet
Anyone who's seen the '90s classic Romeo + Juliet starring Claire Danes and Leonardo DiCaprio will instantly recognize this iconique costume.
SHOP WINGS
27
Queen Marie Antoinette from Marie Antoinette
There were honestly so many incredible outfits in this movie that it's impossible to choose just one. The huge gowns, pastel color schemes, and delicate ribbons and lacing made the ensembles so over the top in the best way.
SHOP WIG
28
Melanie Daniels from The Birds
Alfred Hitchcock's 1963 horror film is a classic, and tbh, Tippi Hedren's green skirt suit is just as fashionable today as it was back then.
SHOP FAKE BIRDS
29
Annie Hall from Annie Hall
Okay, but can we all agree that Diane Keaton single-handedly made the menswear-for-women movement happen?
SHOP HAT
30
Carmen Jones from Carmen Jones
Anyone who's not familiar with Dorothy Dandridge and her Academy Award-nominated performance as Carmen Jones in the 1954 musical of the same name needs to educate themselves ASAP.
SHOP SKIRT
31
Jessica Rabbit from Who Framed Roger Rabbit?
Name a more iconic red dress than the one worn by Jessica Rabbit in Who Framed Roger Rabbit? We bet you can't.
SHOP DRESS
32
Alice Ayres from Closer
Another iconic lewk inspired by a Natalie Portman movie, this slinky Alice costume is sure to get everyone's attention.
SHOP TASSEL TOP
33
Lara Croft from Lara Croft: Tomb Raider
All you really need to do is pair a tank top and shorts with combat boots, thigh holsters, and a pair of tiny sunnies to become everyone's fave tomb raider.
SHOP SUNGLASSES
34
Peik Lin Goh from Crazy Rich Asians
Peik Lin Goh is hands-down the best character in Crazy Rich Asians, and it's not just because she has the best outfits…although that fact does make Awkwafina's character a pretty great costume idea.
SHOP TUNIC
B.A.P.S. is a '90s cult classic, and fans of the flick are sure to recognize Halle Berry's chic orange pantsuit and blonde beehive from the movie.
SHOP WIG
36
Elle Woods from Legally Blonde
Remember the court room scene from Legally Blonde? Ofc you do, because Reese Witherspoon's pink collared dress is just *chef's kiss.*
SHOP DRESS
37
Carrie White from Carrie
Who could ever forget when Sissy Spacek gets doused with pig blood at prom?? (Note: Actual pig's blood is not required to put together this costume.)
SHOP FAKE BLOOD
38
Elle Driver from Kill Bill
Ya, Uma Thurman's yellow catsuit is memorable, but we think Daryl Hannah's raincoat moment from Kill Bill may be even more iconic.
SHOP COSTUME
39
Edna Mode from The Incredibles
Edna may only have one outfit, but she is truly a ✨fashion icon✨ for the ages.
SHOP WIG
40
Dani Ardor from Midsommar
While not the easiest costume to recreate, Florence Pugh's flower dress from Midsommar is undeniably memorable.
SHOP FLOWER CROWN
41
Nyota Uhura from Star Trek
Zoe Saldana's costume in the Star Trek movie series stays true to the lewk originated by Nichelle Nicholas with slightly more modern touches, which is probs why it remains so damn iconic.
SHOP DRESS
42
Wednesday Addams from The Addams Family
Odds are, if you think of Wednesday Addams, you also picture her go-to white-collared black dress—and her signature braided pigtails, naturally.
SHOP DRESS
43
Trinity from The Matrix
When everyone and their mother was sporting tiny sunglasses this year, it spawned so many Matrix references—and with good reason. Trinity's all-black futuristic outfits (often including patent leather and tiny frames) def make the perfect Halloween ensemble.
SHOP GLASSES
44
A Fembot from Austin Powers: The Spy Who Shagged Me
The fluffy pink nighie! The metallic gloves! The blonde bouffant! They may be deadly, but the army of Fembots from Austin Powers are also fashionable AF.
SHOP DRESS
If you feel like Princess Leia's lewk is overdone, then dress up as Rey from the Star Wars sequel film trilogy instead.
SHOP COSTUME
46
Magenta from The Rocky Horror Picture Show
1975's The Rocky Horror Picture Show is FULL of memorable costumes, but Magenta's maid 'fit is one of the easiest to recreate for Halloween.
SHOP WIG
47
Maleficent from Maleficent
One of the chicest villains of all time? It's got to be Angelina Jolie's Maleficent.
SHOP HEADPIECE
48
Daphne Blake from Scooby Doo
Velma's orange sweater is cute and all, but everyone knows that—with her purple dress and green scarf—Daphne is the true stylista of the Scooby-Doo crew.
SHOP SCARF
With her sleek black bodysuit and platinum blonde hair, Halle Berry's Storm is E-V-E-R-Y-T-H-I-N-G.
SHOP BODYSUIT
50
Sally from The Nightmare Before Christmas
She may be the creation of a mad scientist, but Sally's patchwork rag doll dress is kinda cute, no?
SHOP DRESS
Advertisement – Continue Reading Below