55 Dirty Christmas Pickup Lines Because Being Naughty Is So Much Better Than Being Nice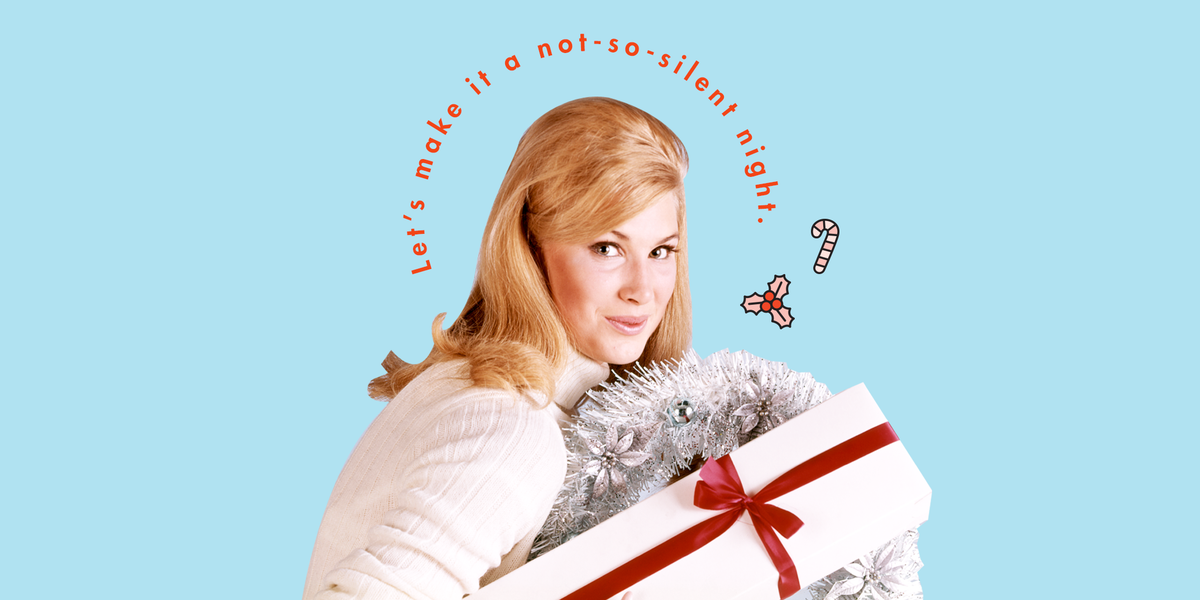 Sure, Christmas may be the best time for gift-giving, hot chocolate drinking, and chestnut roasting, but it's also the time to get a lil naughty and dish out a few holiday-themed pickup lines.
I mean, with the smell of cookies in the air, chilly temps making for ideal snuggle weather, and mistletoe hidden just around every corner, now's the perfect time to take things to the next level with that special someone. So whether you're interested in finding a virtual jingle babe to send a pickup line to, or you're finally making a move on your secret crush, or you have a partner lucky enough to go into cuffing season with, we've got you covered.
From the sweet to the very naughty, from "I just met you, and I'm about to hit you with a cute holiday-themed joke" to "Jingle my bells. Yes, I mean it exactly how you're interpreting it," it's time to break out these one-liners and watch their reactions.
One quick thing before you start sending out these cheesy but very cute pickup lines, it's important to remember that they're all meant to be used consensually. So use them only if you know they'll be well received. You're trying to make them feel merry and bright, not embarrassed, ya feel? Once you have the green light to send and receive pickup lines, here are 55 Christmas-themed ones to whip out just in time to secure yourself a New Year's kiss—or perhaps something a bit more (wink wink).
If you want to make them your permanent Santa baby:
When we met, it was love at frost sight.
The Grinch may have stolen Christmas, but you stole my heart.
Can I take a picture of you so I can show Santa what I want for Christmas?
Forget Santa, you're on my nice list.
I must be a snowflake because I've fallen for you.
Are you Christmas? Because I want to merry you.
You make me more excited than gifts under a Christmas tree.
You're the only reindeer for me.
If a big man puts you in a bag tonight, don't worry. I told Santa I wanted you for Christmas.
All I want for Christmas is you. *cue Mariah Carey singing*
I feel like a Christmas tree when you talk to me because I light up.
I didn't think I was a snowman but you just made me melt.
Forget 12 days of Christmas, I want 12 days with you.
I'll be home for Christmas—and I want you to come with me.
Thanks to you, I never have a blue Christmas.
I don't have a Christmas list, cuz you're already the best gift.
When you want to get naughty with your partner:
Want a gift? Because my best toys run on batteries.
Is your name Winter? Because you'll be coming soon.
Is that a candy cane in your pocket, or are you just happy to see me?
Let me help you out of that ugly sweater.
The milk and cookies at my place taste good for breakfast too.
Wanna Scrooge?
I'm not Santa, but do you want to sit on my lap and tell me what you want this Christmas?
Do you like the song "Jingle Bells"? Because we could go all the way.
How about I shimmy down your chimney tonight?
Let's make this a not-so-silent night.
We don't need a sleigh, you can ride me instead.
Wanna see the toys the elves made for adults?
Let's both be naughty and save Santa the trip tonight.
Let's pretend to be presents and get laid under the tree.
I just got some mistletoe, how about we go back to my place and try it out?
I know what gift I want to give you tonight.
I want your chestnuts roasting on my open fire.
Santa isn't the only one coming to town.
Call me your Christmas tree, because you're turning me on.
Come over here and let me jingle your bells.
Let's deck the halls with each other.
When you want them to know they sleigh:
It's a season of giving, so you should give me your phone number.
There's snow one like you.
I feel like we're developing some good chemis-tree.
I'll definitely let you join in my reindeer games.
Are you Rudolph's red nose? Because baby, I would say you glow.
Aren't you supposed to be on top of that tree? Because you're a star.
If you were a tree, you'd be an evergreen because I bet you look this good year-round.
Call me Rudolph because you just sleighed me.
Even Santa doesn't make candy as sweet as you.
I was going to warm my hands by the fireplace but you're much hotter.
You're not just a gift, you're the whole package.
You're my eggnog: sweet, chill, and delish.
Did it just start snowing in here? You took my breath away.
You're my Top Artist on this year's Spotify Wrapped.
Do you see what I see? You're the perfect holiday date.
Let's get drinks, cuz I wanna get into the holiday ~spirit~ with you.
I don't need Christmas lights, you're already shining so bright.
This content is created and maintained by a third party, and imported onto this page to help users provide their email addresses. You may be able to find more information about this and similar content at piano.io
Published at Mon, 13 Dec 2021 16:25:00 +0000
https://www.cosmopolitan.com/sex-love/a34396282/christmas-pickup-lines/