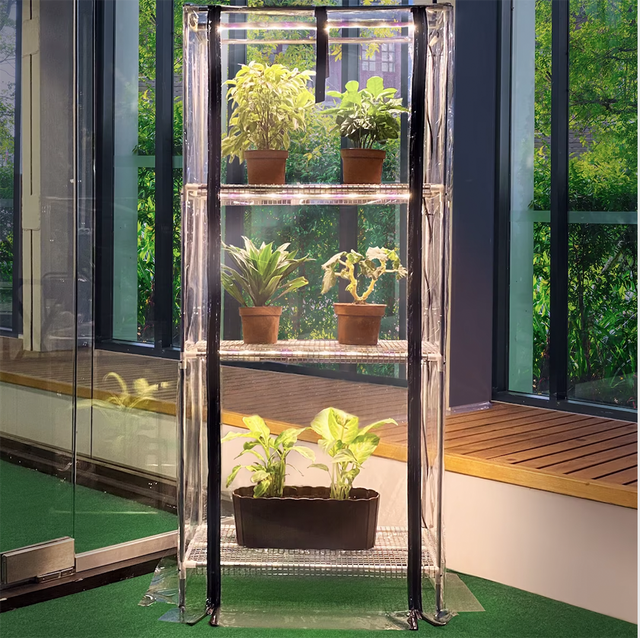 Courtesy
If you're a parent of one or multiple indoor plants, you deserve the MVP award because I know that life can get rough—especially when it comes to providing your green bbs with enough sunlight. And those living in teeny spaces with barely any windows know the real struggle. But just because you might have minimal light comin' through your home doesn't mean it's impossible to give your greenery the luminosity it craves and deserves! Enter the magic of ~grow lights~.
Yes, we're talkin' artificial lights, which do sound a bit intense and scary. But fear not, because they're 100 percent safe for your plant children. Basically, these lights help to encourage plant growth by emitting a fluorescent light that mimics sun rays (which sounds really cute, if you ask me).
There are a ton of options out there, but I gathered only the best indoor plant lights because that's what you and your plant babies deserve! So whether you've got a lengthy living room plant that needs a tall light, a smaller indoor one that lives on your desk, or a kitchen plant that sits on your counter, I've got all kinds of grow lights for ya, below.
Go on and get to shopping. Your lil greenies will be so happy.
Advertisement – Continue Reading Below
Best for Tall Plants
LBW
Grow Light with Stand
Best Hanging Grow Light
Sol Tech Solutions
Aspect™ LED Growlight
Best Decorative Grow Light
QIYIZM
Boho Plug in Pendant Light
Best Desktop Grow Light
NCYPGarden
Tabletop Light
Best Movable Grow Light
GooingTop
LED Grow Light
Best for Kitchen Plants
Good Earth Lighting
Light Bar
Best Lit Greenhouse
BroodyStore
Mini-Greenhouse with Grow Lights
Best for an Indoor Vegetable Garden
Lettuce Grow
Glow Rings
Best Plant for Artificial Light
Pothos Cebu Blue
What to look for in an indoor plant light
Light size and placement
This will depend on the size of your plants (sooo, a desk lamp won't cut it if you've got a big monstera at home) and how much and how far you need the light to go. If you've got a plant that's gonna do a lot of growing, a movable or flexible indoor plant light may be your best bet.
Type of lighting
"Full spectrum" LED lighting is what you'll wanna go for with indoor plant lights, because that'll best mimic the sunlight your space craves. A standard LED light won't give the full spectrum of light your plants need to do all their photosynthesizing, which is why you need one of these LED grow lights.
Advertisement – Continue Reading Below