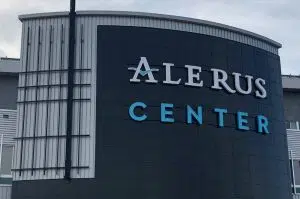 The Alerus Center in Grand Forks is gearing up for one of its largest ever capital improvement projects – a new roof.
The Events Center Commission has awarded the $9.1 million dollar bid to Herzog Roofing out of Fargo. The current roof is showing its age and is beginning to leak.
The project calls for the installation of a new roofing membrane and insulation.  It's a two year project with the arena portion of the building scheduled to be done in 2023 – and remaining sections in 2024.
Alerus officials say installing the new roof should not disrupt events scheduled inside the building. "We are excited for this project as it will allow us to continue hosting a variety of amazing events for the City of Grand Forks and its residents for many years to come."