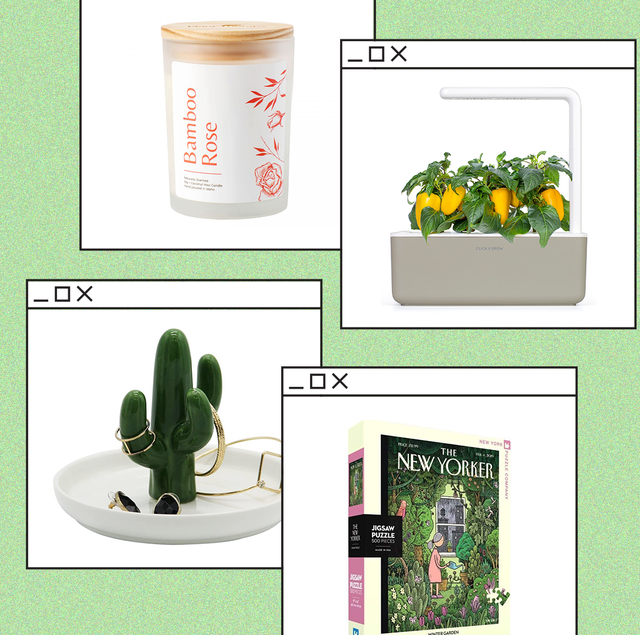 Courtesy
If we're keeping it 100 percent honest: Gift-giving can be a pretty tricky task—especially if they're the type of person who is into very specific things. For instance, if you have someone special in your life who, IDK, is absolutely and positively obsessed with plants, you might not want to go the obvious route by getting them some sort of flower or succulent arrangement. Because they probs already have one. Instead, let's get creative, people! It IS possible!
And as your shopping fairy godmother, we've taken it upon ourselves to help you with this task of finding the best gift ideas for plant lovers that are for sure not just another stem-and-leaf-in-pot situation. Below, you'll find fantastic items like funky colorful vases, cute plant pots and stands, a super cozy throw blanket, an ~on brand~ baseball cap, and so much more. And trust me, they don't need to add any more green bbs to their garden—unless it's the cutest heart plant we're recommending on this list—wink wink.
So if you've been sitting around and thinking about what to get someone who loves plants, stop and just shop through our *chef's kiss* gift guide. We promise they'll love anything below!
Advertisement – Continue Reading Below
1
This hanging terrarium
Monsiter QE
3-Tier Large Wall Hanging Propagation Stations
2
this cozy blanket
Valley Cruise
Fantastic Forest Throw Blanket
3
This surprise plant box
Rooted
Baby Mystery Jungle Box
4
this cute crewneck
Uncommon Goods
Dogs, Coffee & Plants Sweatshirt
5
this coffee table book
Quarto
Urban Botanics: An Indoor Plant Guide for Modern Gardeners
6
these cute water globes
KiKiHeim
Mushroom Plant Watering Globes
7
this funky planter
Greenery
Unlimited Self Watering Planter
8
this sweet card
Papier
Botanical Heart
9
these conscious socks
Conscious Step
Socks that Plant Trees
10
this large puzzle
New York Puzzle Company
New Yorker Winter Garden – 500 Piece Jigsaw Puzzle
11
this artprint
social-dilemma
Color Swatch – Green Botanical Plant Poster
12
this cocktail kit
Uncommon Goods
Cocktail Herb Garden Grow Kit
13
this flowering plant
FTD
Azalea Bonsai
14
this graphic tee
Bloomscape
"Life Gathers Around Plants" T-Shirt in Light Green
15
This 2-in-1 candle
Modern Sprout
Glow & Grow – Frosted Forest
16
this fun vase
Jungalow
Peace Vase by Justina Blakeney
17
this sophisticated terrarium
Mealivos
Plant Terrarium with Wooden Stand
18
this smart garden
CLICK & GROW
Smart Garden 3 Self Watering Indoor Garden
19
these stylish hangers
AOMGD
3 Pack Macrame Plant Hanger
20
these adorable plants
Hoya
Heart Duo
21
these cool coasters
RootsAndWingsVinyl
House Plant Coasters
22
this stunning watering can
plants.com
Copper Watering Can
23
this basil growing kit
Sprout
Indoor Garden Kit
24
this printed bedspread
Joyreap
Reversible Botanical Quilt Set – 3 Piece Set
25
this sweet-smelling candle
Plant Therapy
Naturally Scented Candle
26
these cute planters
West Elm
Ilya Turned Wood Tabletop Planters
27
this garden tool kit
The Sill
Garden Kit
28
these funky vases
Bioplastic Vases for Dry Flowers – Set of 3
29
this thoughtful necklace
DearAvaGifts
Gift for Gardener Necklace
30
this v on brand hat
Towne9
Plant Daddy Dad Hat
31
this leafy mask
coradorables
Hawaiian Aloha Print Face Mask
32
this bright clock
Society6
Retro Flower Power Wall Clock
33
this elegant pillow
SERENA & LILY
Palm Pillow Cover
34
this decorative jewelry holder
kotoyas
Ceramic Ring Holder
35
these ceramic wall planters
Dakota Fields
Luciano 6 – Piece Ceramic Wall Planter Set
Advertisement – Continue Reading Below