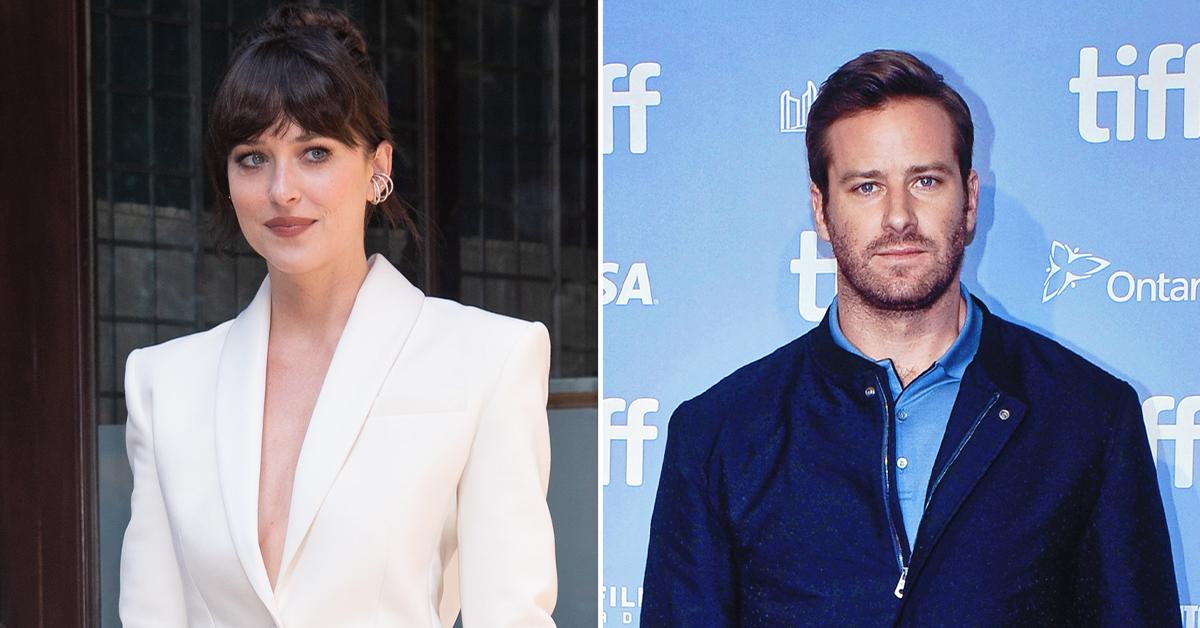 Dakota Johnson made a joke about Armie Hammer's alleged fetishes while on stage at the 2023 Sundance Film Festival.
While onstage at the Opening Night: A Taste of Sundance presented by IMDbPro on Thursday, January 19, the actress, 33, gave a shout-out to Luca Guadagnino, who directed Hammer in the flick Call Me By Your Name.
"Sadly, I wasn't in [Call Me By Your Name]. Luca had asked me to play the role of the peach, but our schedules conflicted. Thank God, though, because I would've been another woman that Armie Hammer had tried to eat," the brunette beauty quipped.
The reactions differed — at first, there were a few laughs, but later on, she received a round of applause.
"It's been five years since that film premiered here, and Luca hasn't stopped taking us to exciting places. Who knew cannibalism was so popular?" the star continued, referring to Guadagnino's most recent project, Bones and All, a romantic drama about two lovers who love human flesh.
"'F**k that was weird,' but you never think about it again," Vucekovich said of the odd behavior. "He says, 'I want to take a bite out of you.' If I had a little cut on my hand, he'd like suck it or lick it. That's about as weird as we got."
However, the Social Network alum has denied all accusations.
"From day one, Mr. Hammer has maintained that all of his interactions with [Effie] — and every other sexual partner of his for that matter — have been completely consensual, discussed and agreed upon in advance, and mutually participatory," Hammer's lawyer said in a statement. "[Effie's] attention seeking and ill-advised legal bid will only make it more difficult for real victims of sexual violence to get the justice they deserve."