A 1978 orange LandCruiser fondly named the "mud crab" has travelled 7km across Darwin harbour's shipping channel while 30 metres underwater, in a feat that may have broken two world records.
It took a team of 30 more than 12 hours to get the job done, with commercial divers changing out of the driver's seat every 15 minutes due to the underwater pressure.
After entering the harbour via the Mandorah boat ramp at 9am on Saturday, they faced almost a dozen boggings and dealt with the threat of crocodiles and pipelines to navigate the waterproof electric four-wheel drive to nearby Mindil beach.
"I was stressing out a bit," the project lead Tommy Lawrence said. "We had heaps of problems, certain sections of harbour were so muddy and silty we sank like a rock.
"We were bogging, winching, towing – all part of a four-wheel drive adventure but 30 metres underwater."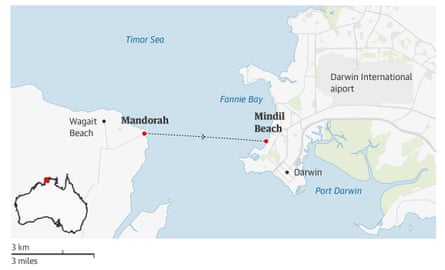 Around 9pm, five hours later than scheduled, the Toyota emerged from the blackened water victorious to the scream of hundreds of excited Northern Territorians.
"It was wild," Lawrence said, after he watched the final moments from an adjacent boat.
"It drove to the horizon, and there was a giant party and disco on the beach … thousands chanting, all holding their phones lit up to light the way.
"Then everyone swarmed the car, kids jumped on the back, one guy had a couple of fish on there, I don't know where they came from."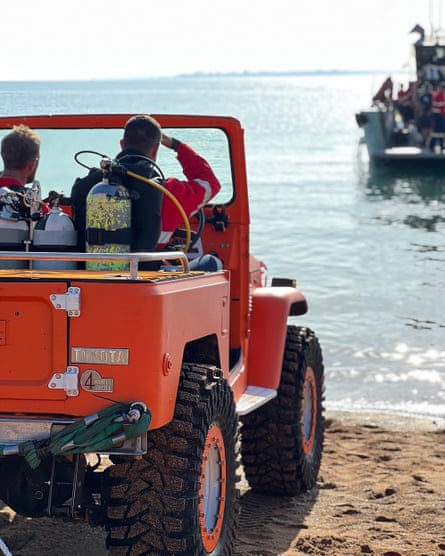 The eclectic team of engineers, divers and rev-heads is confident the colossal effort, which took a year of planning, has set world records for the longest and deepest underwater drive.
Lawrence got the idea for the project in homage to a previous attempt for the same record made in 1983.
Growing up in Darwin, the fated trip, cooked up from "a few too many beers around the barbecue", was local legend. Aided by 70 divers and a 60-metre snorkel, the car was forced to surface 3km in after hitting a rock ledge.
Lawrence produces a salvage show with car enthusiasts and wanted to make a film about LandCruisers, which are hugely popular in Australia and boast a cult following.
"I remembered the story and thought, 'We could try and have a crack at that,'" he said. "The [team] were like, 'Hell yeah, that'd be a lot of fun.'"
It took about six months to restore their 40 series LandCruiser which, at the time of purchase, wasn't road safe. It was fitted with a waterproof electric engine and 150kg water-filled tyres.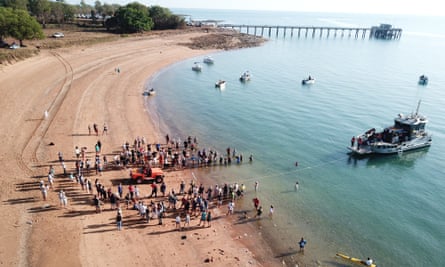 It was a mammoth process, even to find the car itself, which had to be so "perfectly destroyed that nobody would want to restore it".
"It would be sacrilegious to destroy a good one," Lawrence said.
Eventually, they found the "mud crab" on Gumtree, listed for $7,500 in Brisbane. Lawrence told the seller they only had $5,000 but planned to drive it for 7km across Darwin harbour.
After "a lot of late-night phone calls and Zooms", a team was forged, spanning engineers and mechanics to car enthusiasts, commercial divers and mates.
"We were building till the night before we put it in the water," Lawrence said. "We pulled the motor out in Brisbane, had no money and were building out of a shed and wherever we could.
"Then my friend Travis had space in his grandad's driveway in Melbourne, so we towed it from Brisbane to Melbourne, and were there for about three months."
When Melbourne started to get too cold, a tech company offered shed space in Darwin, so they towed it all the way up north.
There they met a man at a pub who happened to run a tool shop in the area and said "take whatever you need".
"It was like Christmas, we were away," Lawrence said. "We slept and lived in with the swags set up … got up, had a coffee and started working the tools."
Now its journey is completed, the mud crab's story isn't over. Lawrence expects a documentary to come out on the subject in February.
In the meantime, there's talk of putting it on display in Darwin Mall for a few days, "for the kids to have a look at".
"Then we'll decommission it, rust proof it and get it going again."