Hispanic Heritage Month is officially here! Every year from Sept. 15 through Oct. 15, this month celebrates Hispanic culture and acknowledges the numerous contributions Latinos have made to the world.
Growing up as a first-generation Mexican American, there were several moments in my childhood where I was insecure about my culture. Reflecting on that time, there was a lack of Latino representation across industries. Today, Latinos play a significant role in art, music, sports, food, and beyond. Not only have I embraced and learned more about my Mexican culture in Chicago, but I have also learned the history and traditions of other Latino groups through the many institutions, restaurants, and events available throughout the city.
Here are a few of my recommendations for events and restaurants you can visit to celebrate Hispanic Heritage Month in Chicago, including many things you can do year-round.
Latino exhibits and museums
One of my favorite ways to celebrate Hispanic Heritage Month is by supporting cultural institutions that empower our communities through art, education, and more.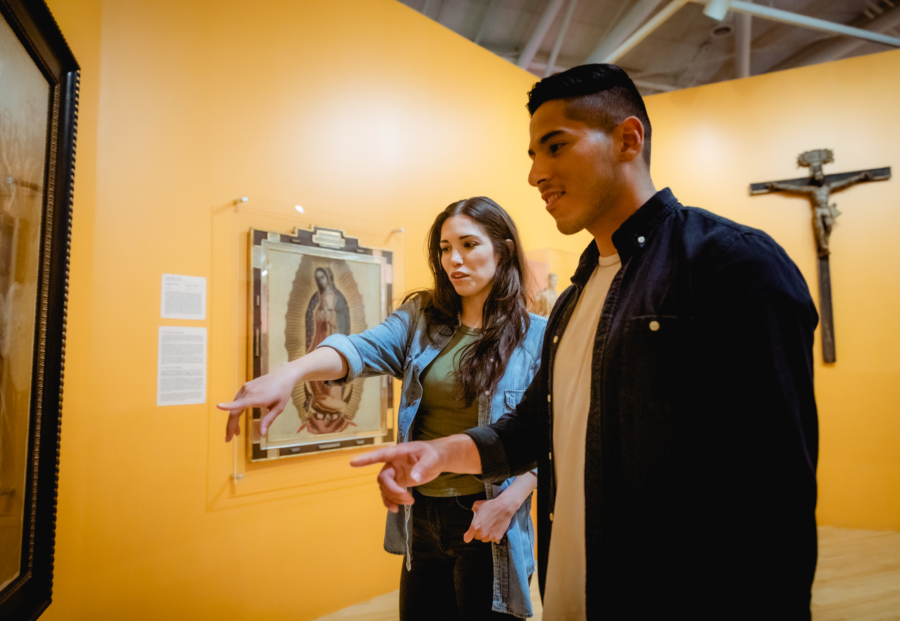 National Museum of Mexican Art: This free museum in Pilsen is bringing back its special Day of the Dead exhibit beginning Sept. 23. Experience this tradition of honoring the lives of lost loved ones through art, photography, and the iconic ofrendas.
National Museum of Puerto Rican Arts and Culture: The National Museum of Puerto Rican Arts and Culture will feature a pop-up exhibit beginning Sept. 20 that honors Latin America's beloved spiritual advisor, Walter Mercado. Having grown up watching his daily horoscope readings with my mom, we are both incredibly excited to learn more about his life through this collection of his personal items.
International Latino Cultural Center of Chicago: The International Latino Cultural Center of Chicago is always great to visit and experience Latino culture through various art forms. During Hispanic Heritage Month, the center will host film screenings, live music, dance performances, and more.
Pilsen Arts and Community House: This non-profit art gallery and community center in Pilsen provides art workshops, exhibits, film screenings, book clubs, panel discussions, music performances, and more to help the community engage with the arts across mediums.
UIC Latino Cultural Center: The Latino Cultural Center not only offers free public programs at the University of Illinois at Chicago, but it is also home to the largest indoor mural in Chicago! Experience the mural tour or join a tour of their heritage garden. This month, you can also attend a poetry reading and an open studio event.
Hispanic Heritage Month events in Chicago
This month is packed with fun cultural events—including a theatre festival, a flamenco performance, and live music— hosted by local museums, cultural institutions, sports teams, and beyond.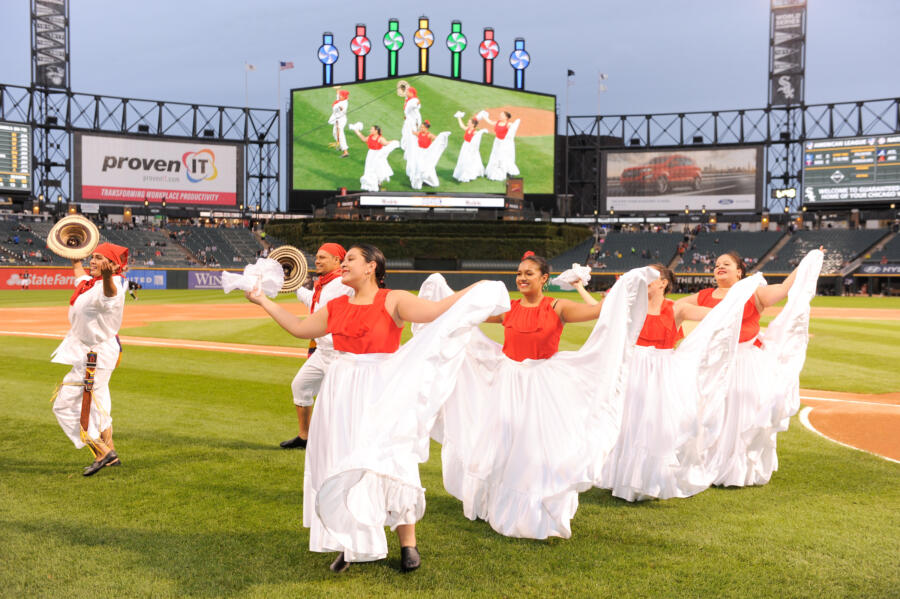 Latinx Heritage Month at the Field Museum: The Field Museum will honor the contributions of the Latinx community via events, exhibitions, and stories throughout the month. Check out bilingual storytime, a lunch and learn, and special performances. Plus, the Field will be offering free museum days through September and October.
Imagine Better Presented by Ballet 5:8: Ballet 5:8 is a female and minority-led premiere ballet company recognized for remarkable artistic excellence, innovation, and beauty. The company creates original and dynamic performances drawing from life, faith, current events, and diverse perspectives that tell relevant stories of the 21st century. Be sure to witness their dynamic performance, Imagine Better, to close out Hispanic Heritage Month on Oct. 15.
Ensemble Español at Auditorium Theatre: Ensemble Español Spanish Dance Theater will perform a piece entitled Flamenco Passion to honor Hispanic Heritage Month and kick off the popular Chicago Dance series. The performance, which features global flamenco superstar La Lupi, will take place Oct. 1.
Celebrating the Visiting Teaching Artists of Forms & Features: Experience a powerful virtual reading with six extraordinary poet-educators on Sept. 15. Hosted by the Poetry Foundation, this event is free for all ages and can be enjoyed right from the comfort of your home.
Destinos Chicago International Latino Theater Festival: Destinos is Chicago's annual citywide festival showcasing Latino theatre artists and companies from Chicago, the U.S., and Latin America. During Hispanic Heritage Month, Destinos will showcase an array of Latino-centric shows and events at downtown venues, neighborhood storefront theaters, and cultural institutions throughout the Chicago area.
Explore more: Discover Latino heritage in Chicago's neighborhoods
Runway Latinx: For over 14 years, Runway Latinx has showcased national and international Latinx designers on the runway. This three-day event will kick off Friday, Oct. 14. A portion of the funds raised from this event benefits Pivoting in Heels, a digital non-profit dedicated to empowering women through their scholarship program.
Chicago Blackhawks Hispanic Heritage Night: On Oct. 25, as the legendary Chicago Blackhawks take on the Florida Panthers, the United Center will be filled with entertainment and activities throughout the night that celebrates Hispanic heritage.
Slow&Low: Chicago's Lowrider Festival at Navy Pier: Navy Pier's Lowrider Festival features more than 350 customized cars, bicycles, and motorcycles. The vehicles will take over 170,000 square feet of Navy Pier's Festival Hall, the largest gathering celebrating Lowrider culture, community, and art in Chicago, beginning Oct. 15.
Hispanic Heritage Night with the White Sox: Every year, the Chicago White Sox hosts Hispanic Heritage Night at the ballpark. Fans can enjoy Latino music, performances, food, and, for the first time, a post-game drone show on Sept. 23.
Hispanic-owned restaurants and Latino cuisine
One of the best ways to celebrate Hispanic Heritage Month is by supporting Hispanic-owned businesses around Chicago. Here are a few of my favorite restaurants where you can try authentic Latino cuisines.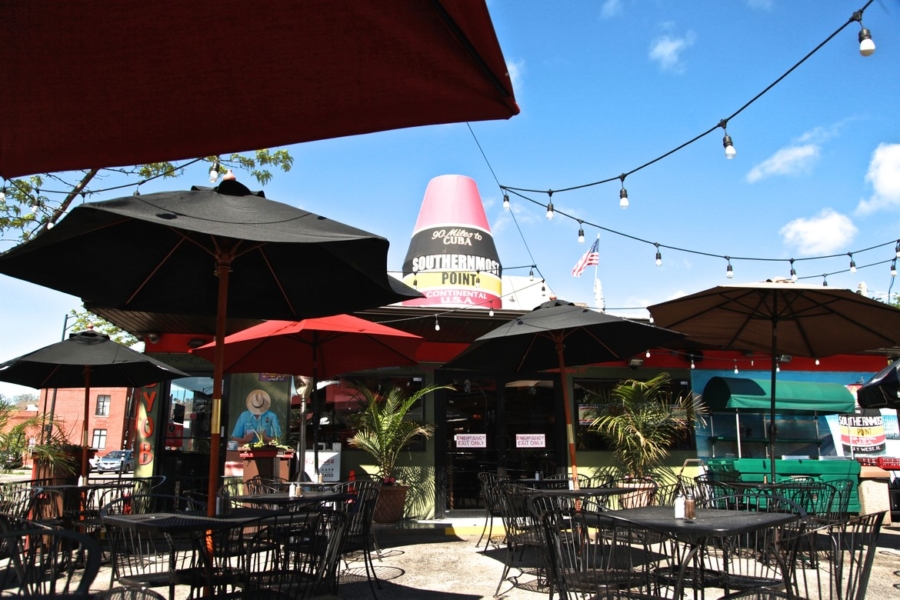 90 Miles Cuban Café: For authentic homemade Cuban cuisine, 90 Miles Cuban Café is the place to go. Check out one of their three locations throughout Chicago — after trying their classic dish ropa vieja you will be making plans to return.
Amaru: Hands down, Amaru is the best place for pan-Latin bites and craft cocktails in Wicker Park. Offering a unique dining experience, Amaru is the definition of culture, history, and passion all in one space. Not to mention their cocktail Holy Water is a true work of art.
Borinken Cakes: Do you have a sweet tooth? That makes two of us! I recommend you try some of the best Puerto Rican pastries in Chicago. Borinken Cakes is a small woman-owned family business that offers authentic sweets made from scratch. Located in Logan Square and the Midway area, their cupcakes will have you dreaming of palm trees and sunshine for hours. My absolute favorite is coquito!
Dulce De Leche Cafe: You can never go wrong with crepes for dinner, especially if they are at Dulce de Leche Cafe. This local coffee shop is in Albany Park and serves Latin-American infused breakfast and lunch items all day long. Also note that their lattes are amazing!
La Josie: La Josie's modern spin on traditional Mexican cuisine is an experience worth having. With their comprehensive spirit menu featuring over 100 expressions from different regions of Mexico and some of the best seafood in Chicago, this will become your new favorite spot to unwind after a long workday or celebrate a special occasion. I highly recommend their mariscada.
Las Tablas On Lincoln: When craving Columbian food, you can never go wrong with Las Tablas, Chicago's first Columbian restaurant. Founded in 1991, Las Tablas quickly outgrew its original storefront and now has two locations in Chicago. Las Tablas is the only Colombian steakhouse in the Midwest that serves authentic ajiaco soup. Expect nothing less than delicious.
Pizza y Pan Pa' Ya: Pizza y Pan Pa' Ya is among the few Columbian pizzerias in Chicago. Offering both thin crust and deep dish, this is one hidden gem worth putting on your list to try.
Rica Arepa: Rica Arepa offers the best authentic Venezuelan experience in Chicago. Located in Lakeview, they truly live up to their name, serving a wide variety of delicious arepas. Their pabellon arepa is incredible. You won't be disappointed! They also offer veggie and vegan arepas, all 100% gluten-free.