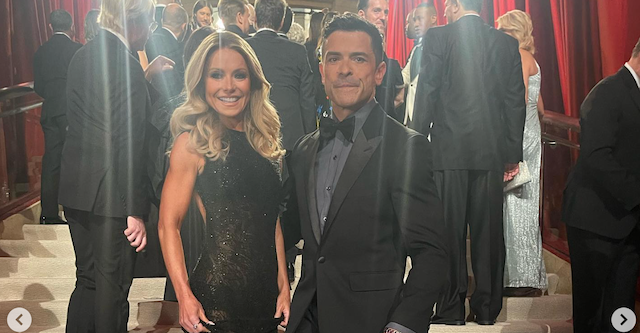 Kelly Ripa and Mark Consuelos had an epic date night when they attended the 2023 Oscars on Sunday, March 12.
"Mom and Dad attend the #oscars champagne carpets and caviar dreams🖤🖤," the blonde babe, 52, captioned a slew of photos from the California event.
In the pictures, the TV host sported a long sparkly dress while walking next to her hubby, 51, who wore a black tuxedo.
Ripa's co-host, Ryan Seacrest, also joined the duo during the night.
"#Oscars2023 here we go!" the 48-year-old said.
In another post, the American Idol host posted with hid dog. "I can't speak for the academy but if it has Georgia in it, it wins best picture. Ready to go backstage for @livekellyandryan soon #Oscars2023," he quipped.
Of course, people couldn't help but gush over Ripa's gorgeous look.
One person wrote, "So STUNNING 🔥❤️❤️‍🔥," while another added, "You two look amazing!!!!"
A third person wrote, "You guys are so hot 🔥."
"Working alongside Kelly over the past six years has been a dream job and one of the highlights of my career. She has been an amazing partner, friend, and confidant, and although we will always be a part of each other's lives, I will miss our mornings together," Seacrest said in a statement. "I also want to thank Michael Gelman and the entire staff and crew – we've made memories to last a lifetime, met some of the most incredible people and had the warmest welcome into the homes of so many viewers across America. It's been a memorable ride and now I'm excited to pass the baton to Kelly's 'real' husband, Mark."