An emergency situation has been declared as a bushfire four times the size of the ACT continues to threaten a remote Northern Territory town.
The 3,000 residents of Tennant Creek have been urged to "stay calm" as authorities seek special powers to manage the 10,000 sq km blaze.
The NT police commissioner, Michael Murphy, said he was confident the town would not need to be evacuated and the emergency declaration was precautionary for public safety.
"We've been working tirelessly at putting brakes in place … to make sure there's a significant line of defence around Tennant Creek to stop fire encroaching on the town," he told reporters on Tuesday.
"There are some fallback contingencies … [but] evacuations are not going to occur."
Murphy said though the fire was "fairly uncontrolled" Tennant Creek residents would be safe.
The next 48 hours would be critical to determining how damaging the mega-blaze would be, he said.
Three water bombers, able to dump 3,000 litres of water at a time, were stationed in Tennant Creek.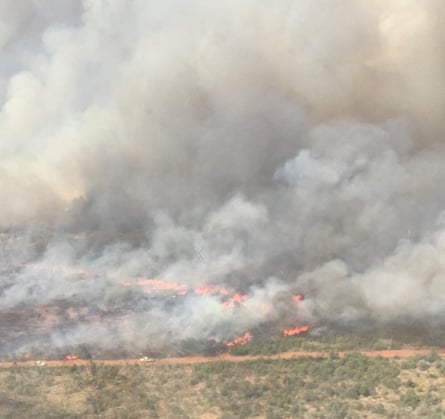 The Barkly highway had been intermittently closed since the blaze began on 6 September, and smoky conditions on the Stuart Highway could cause closures as well, Murphy said.
The deputy chief minister, Nicole Manison, said parents should go to work and send their children to school, despite the threat.
"The message is to be calm and business as usual," she said. "But again, because of the unusual size of this fire front, we just want to be prepared for worst-case situations as well.
"We would just like to have a few more tools in the toolbox to make sure we're ready to act very swiftly if we need."
The Australian Defence Force has also moved into Tennant Creek to help with firefighting efforts.
The fire began as two blazes and merged into one over the weekend, lurking 30km from the town on Tuesday morning.
Residents said much of the smoke had cleared overnight.
"This has been a remarkable fire situation given the size of the front and the weather conditions have been frankly working against us," Manison said.
Motorists said flames from the front could be seen from the Stuart Highway en route to Darwin.
The emergency situation has been declared for the Barkly LGA and is one step lower than a statewide state of emergency.