The Northern Territory government will review its bail laws and police powers after a young liquor store worker was stabbed to death.
Declan Laverty, 20, was fatally stabbed while working at a Darwin liquor store in the suburb of Jingili at about 9pm on Sunday evening, NT police said.
Keith Kerinauia, 19, was arrested and faced a Darwin court on Tuesday charged with murder, aggravated robbery and breach of bail.
He was not required to enter a plea and was remanded in custody.
The chief minister, Natasha Fyles, offered condolences to the family and friends of Laverty on Wednesday, calling the death an "absolute tragedy".
"It has been an extremely difficult few days for our community," Fyles said at a press conference on Wednesday.
"It is an absolute tragedy in our community and it must not happen again."
The NT government announced a suite of measures on Wednesday in response to Laverty's death, including reviewing bail laws for offences involving a weapon, reviewing penalties for carrying weapons in public and reviewing police powers for public safety.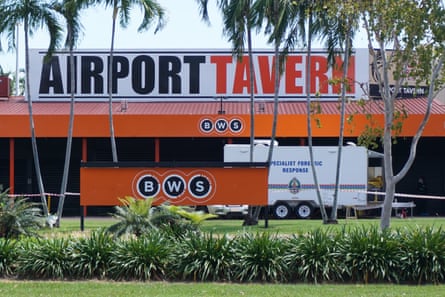 The NT government said it would ramp up police patrols at known hotspots for antisocial behaviour and fund security and crowd controllers at takeaway liquor outlets for the next three months. Crowd controllers and security guards will be equipped with capsicum spray.
Fyles said the measures would improve community safety. Laws are also being introduced in parliament to allow shopkeepers and retail staff to ban people engaged in antisocial behaviour, Fyles said.
"The safety of our community is paramount – and enough is enough, this behaviour has to stop," Fyles said.
She said there had been an increase in the territory and elsewhere of edged weapons being used in crime, and said reviewing bail laws and penalties for those alleged to have weapons such as knives was a key focus.
"We have seen nationally, and in the Northern Territory, an increased carriage of edged weapons along with violent crime. This is not normal and we want to stop it," Fyles said.
NT police deputy commissioner Michael Murphy said everyone had the right to be safe at work.
"Increased police powers [as] mentioned by the chief minister would provide better outcomes for the Northern Territorians; it will allow police to stop, search and detain and seize anyone suspected of carrying edged weapons or all weapons of that matter," Murphy said.
"Every worker that goes to work deserves to work in a safe environment … and deserves to go home at the end of their shift."
He said there would be an increased presence of police officers in Darwin and Alice Springs.
"You will see both covert, highly visible and overt police activities through retail, through bottle shops, through service stations to reassure people that go to work every day [that they] are safe and free from harm," Murphy said.
Murphy also cautioned against vigilantism.
"I'd urge people not to take matters into their own hands. If you see a matter that is suspicious or concerns you, please contact police."
The territory government said it will work with the retail industry to improve safety and security, including training workers in de-escalation tactics.
Alex Bruce, the chief executive officer for peak industry body Hospitality NT, said the industry is still grappling with the loss of the young worker.
"There is still a lot of hurt and anger and frustration … we are here to support and play our role. We can never let this happen again."
– with AAP