First Nations people living in some of the remotest parts of the country say they still lack information about the voice to parliament only weeks out from the referendum.
As early voting opens in remote and regional Australia before the referendum on 14 October, some residents on both sides of the argument say voters are struggling to access information about the meaning of the proposed constitutional change.
On Saibai Island, in the Torres Strait, Paul Kabai is a prominent environmental activist who has fought against climate change on his island home.
Kabai said access to reliable sources of information on the upcoming referendum was a challenge: "Nothing has been explained to elders here on the island.
"Talking with people about voting, it's all about, 'What is this referendum vote all about? What is the no, what is the yes for?' Voting is just around the corner and there is nothing."
Consistent polling has shown support for the voice declining in all states and territories but Kabai hopes the vote will succeed: "If it's no on the paper it'll be more difficult for us Islanders and Aboriginal people. They don't know our living standards here and the racism will be around the corner if it's no."
The Mer Island resident Melora Noah disagrees with the idea of the voice, saying she already has one. She said there was still confusion about the proposed advisory body.
"Nobody knows about the voice," the women's rights and education advocate said. "That's my concern – that they will vote yes because it's an Indigenous thing. Not because they understand what they're voting for."
She said living up to the promise of land rights and the 1992 Mabo decision was critical: "The highest court in Australia rubber stamped what we Murray Islanders have known from time immemorial. That we are a sovereign nation."
James Calyun, a Martu man from Meekatharra in Western Australia's mid west region and Leonora resident, does not support the voice, saying one body could not be representative of the views of hundreds of different First Nations groups around the country.
He said a no vote would not stall progress on closing disadvantages and inequalities experienced by many Indigenous communities.
"It's about communicating truthfully and honestly to the politicians and the political areas: 'We've lived all our lives under a no decision anyway so what makes it different? We'll continue to go on,'" Calyun said.
He said many in the community were still unsure about the vote and there continued to be a lack of information despite a recent visit from the Australian Electoral Commission.
"A lot of people don't really know about it, and a lot of our people are not enrolled or ever even voted," Calyun said. "But [earlier] people came through talking about enrolling and how to vote and that it was their own choice to vote yes or no, they gave all that information."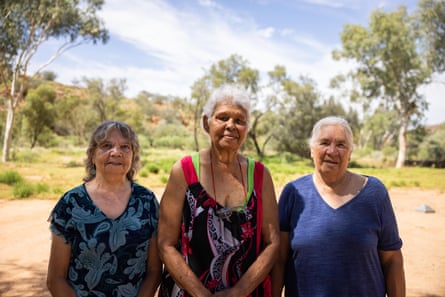 Doreen Carroll, a Western Arrernte elder from Alice Springs who has long campaigned for better rights for her community through her work with the Strong Grandmothers of Central Australia, said there was growing awareness about the referendum as the campaign had gotten under way in the town.
"A lot of people here are understanding it and get a lot of people saying yes but also people should be able to vote the way they want to, all Aboriginal people," she said.
She supports a successful vote and said it would give greater decision-making for communities: "I would say, let me enter the door; our people have been asking for something, somebody to just listen and the government has never really listened.
"We just want a better life, that's all people are asking for."
The AEC said a lot of work had been done to ensure voting and information was tailored to communities' needs and how to better support access to voting services. There had been more than 750 community visits and 60 remote polling teams.
But the commission acknowledged the challenges of vast terrains and communities of 17.6 million enrolled voters: "We simply cannot get to every single community in Australia. There is just not enough people who put their hands up to work for us, enough time or enough transportation."