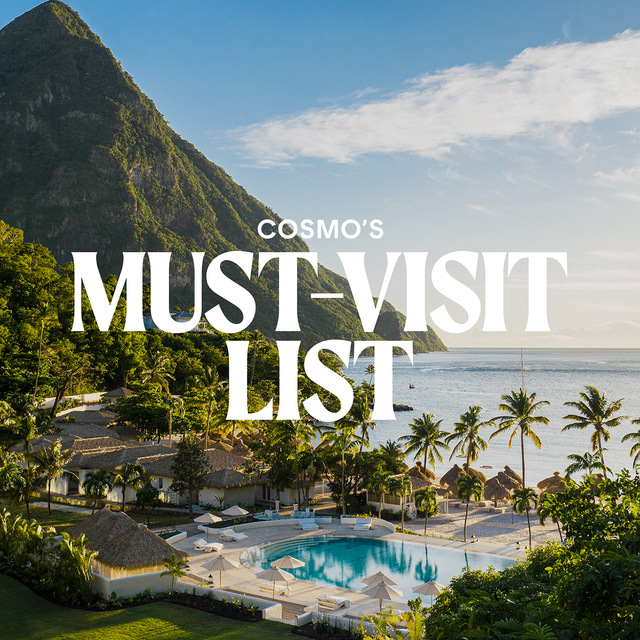 Courtesy of Sugar Beach St. Lucia
One thing about me: I'll always choose the Caribbean whenever I get the opportunity to travel outside of the continental U.S. The thing is, whenever I think of a peaceful getaway, I picture myself parked on a beach, captivated by the sunset while waves ripple underneath my feet. Truly, it's the island girl in me.
Needless to say, I knew without a doubt that I would be enamored by Sugar Beach St. Lucia Resort. It's *the* place to surround yourself with incredible vistas (have you seen The Pitons??) while on island time. Seriously, I'm talking serene rainforests on the Caribbean Sea, stunning accommodations (beachfront bungalow, anyone?), unforgettable seafood, and Caribbean faves like plantains and jerk chicken. Yup, Sugar Beach is your key to the sweet life, friends.
Now, if you allow me—it's time I provide you with a peek into how luxe serenity looks once you land in St. Lucia.
(FYI: my flights, transfers to and from the airport, accommodations, meals, and scheduled activities were comped in order to write this review.)
This content is imported from Instagram. You may be able to find the same content in another format, or you may be able to find more information, at their web site.
Stay
Sugar Beach St. Lucia: Quick Q: What are you in the mood for, a beachfront bungalow or a tranquil villa? How about a luxury cottage in the mountains? Are you into penthouse vibes or would ya like a suite? With the perfect blend of modern and historical aesthetics, Sugar Beach quite literally has all of the above when it comes to accommodations. Personally, I had my own suite complete with a private patio own plunge pool. Yes, she fancy. Inside, I enjoyed the Victorian-style claw foot bath (pinkies up, everyone) and the mini bar, of course!
Upon entering my room, the resort welcomed me with special ingredients for my own St. Lucian cocktail and my personal butler. I also received a phone to access the front desk at any time while I was on the resort. Speaking of the people there: The locals are genuinely kind and I was surprised to discover that they speak Creole! I'm Haitian-American, so it was cool discovering the differences in our languages but still being able to understand one another.
Play
A boat and snorkel trip: I have a confession: I can't swim. And yes, I know how absurd it sounds being that I come from a Caribbean background, but I promise I'm going to learn by the end of this year! That said, I wasn't gonna pass on this amazing boat excursion the resort hooked us up with. There were floaties on board JIC, but I didn't participate in the snorkeling portion of the boat trip. I did enjoy the views, however! The waters were so clear and the seaweed looked like gold! Truly, a vibe.
A mud bath and volcano tour at Sulphur Springs: St. Lucia has the only drive-in volcano in the Caribbean. It's been over 200 years since La Soufrière Volcano erupted, so it's dormant, aka totally safe. When I reached the top of the volcano, I saw for myself! Sulfur Springs is an incredibly popular tourist attraction but St. Lucia locals love it, too for the steaming hot mud baths that can ~detoxify~ the body. It was a fab refresh for my skin. Heads up: You're gonna need to add a dark bathing suit to your packing list!
A botanical garden adventure: Okay now, the Diamond Falls Botanical Gardens, Waterfall and Hot Mineral Bath Springs is like a scene out of a movie, just so peaceful and so dang pretty. Once I entered, I was transported into a marvelous other world—one where birds and tropical flowers and plants are the main characters.
Rum and chocolate tasting: Did you even go to the Caribbean if you didn't try the island's rum?! (Pst…the answer is no.) As I watched the sun go down over the resort pool, I was treated to rich chocolate and tasted fine St. Lucian rum right on the property. I'm a lightweight and prefer fruity drinks, but if you're a rum lover, you will def enjoy every aspect of this activity.
This content is imported from Instagram. You may be able to find the same content in another format, or you may be able to find more information, at their web site.
Hanging out by the pool or beach: There are so. Many. Ways to chill at the Sugar Beach resort. I definitely made a beeline for the beach whenever I had the chance. I also dipped my toes in the resort pool and went on a swim in the ocean ("swim" meaning wading out to the hammock and reclining there!). Oh, you could also work out with the ocean as your backdrop but relaxation does not = exercising for me, sry! There's also a yoga studio and cardio equipment room if you're into that.
Rejuvenating at the Rainforest Spa: One of the best parts of this relaxing getaway is the spa treatment I got at the resort's spa. It's literally in a cool rainforest treehouse and is the perf place to reflect and unwind. (Pro tip: arrive 15 minutes prior to enjoy the spa facilities! There's a sauna!)

It was *so* hard to choose between all the signature treatments, but I went with the Himalayan Salt Stone Massage and I am so glad I did! I've never fallen asleep so fast during a massage. IT. WAS. LIFE.
Eat
Bonté: Sugar Beach definitely knows how to do wine and dine ya. With beachside restaurants and spectacular rooftop views, I indulged in pretty much all the great eats they had to offer. I started off with a welcome dinner at Bonté restaurant at the resort, where I had the best lobster and enjoyed the best scenery—the sun set so beautifully that no camera could ever compare to the real thing.
Jalousie Grill: As I said, I'm kinda a lightweight, but this Piña colada at Jalousie Grill on the property was the ideal amount fruity goodness I needed on this trip. Also, I may be biased because sweet plantains are my fave, but you actually need to try the appetizer. And make sure you get the jerk chicken sandwich! You will not regret it.
Cane Bar Terrace: Asian fusion? Yes, please. I had the best of both worlds at the resort bar sipping on an island Cosmo and munching on sushi and other Asian-inspired dishes.
Saltwood: I'm all for fancy shmancy dinners and this one took the cake. I can never have enough scallops, and the servers at Saltwood (a newly named restaurant at Sugar Beach) kept 'em comin' for me. There was also fantastic steak and cool-looking s'mores-like desserts.
Reel Jiggy Banana Boat: Now, if ya know me, you'd know I'm the kinda of girl that loooves fruits, and hates veggies. Needless to say, I was happy to participate in a fruit tasting after a long group trip from the Sulphur Springs and Botanical Garden. The coconut drinks that were sooo refreshing in the island heat, and I also encouraged everyone to try sugarcane and mango—a few of my absolute faves!
This content is imported from Instagram. You may be able to find the same content in another format, or you may be able to find more information, at their web site.